Carrie Underwood Announces Gender Of Baby No. 2: Twitter Reacts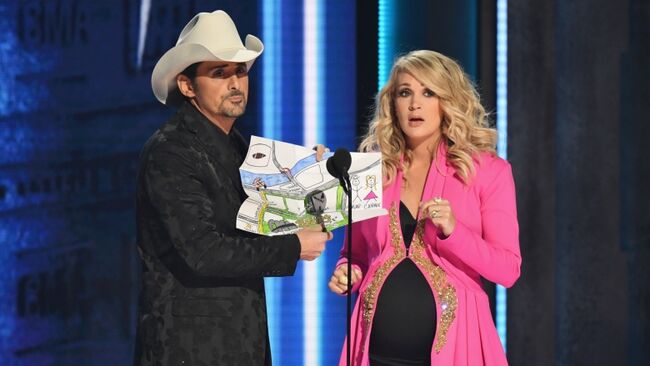 During the opening monologue at the 2018 CMA Awards on Wednesday night (November 14), Carrie Underwood revealed that she and husband Mike Fisher are expecting another baby boy to add to their growing family, which already includes three-year-old Isaiah.
Needless to say, the big reveal had social media lighting up, with tons of users responding to the #CarrieBlewIt announcement. Similar to what she and co-host Brad Paisley did in 2014, the pair worked on a strategic script to unveil the sex. "Remember last time when I accidentally revealed the gender of your baby? Tonight we're going to reveal something even more exciting — who your baby's father is!" Paisley jokingly said at the podium, before listing off several names that'd indicate whether she was having a boy or girl. "Garth or Trisha?" he asked along with a number of other famous country couples until he posed a trick question: "Willie or Waylon?" She eventually caved and said the upcoming baby was "a Willie."
Scroll on below to see some of the reactions to Underwood's big CMA reveal with the hashtag #CarrieBlewIt!